The Top 4 Seafood Restaurants Near Dover, OH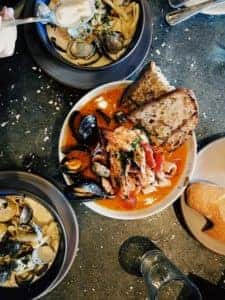 Snap up a real catch of a meal when you visit these seafood restaurants that can be found right here in our local area. Fresh fish and other flavorful ingredients help these restaurants set the standard for great seafood here in the Dover, OH region.
1. Smash Restrobar
All of the food at Smash Restrobar is made fresh daily, using locally-sourced ingredients to enhance the flavor that ends up on your plate. The owner draws inspiration from their Latino heritage as well as traditional American cooking styles to give you the best of both worlds when you stop in for a visit.

The fire cracker shrimp appetizer plate is one spicy option on the menu here, served with a flavorful sriracha aioli and lightly battered to a crispy texture. The battered cod dish is another seafood classic you'll find on your visit, served with sweet potato fries, house-made slaw, and tartar sauce for extra flavor.
2. El Pueblito Mexican Bistro
Get your favorite seafood with a Mexican cuisine-inspired twist when you visit El Pueblito Mexican Bistro. Book their party room to get the perfect setting for your next big occasion for up to 100 people, along with all the tasty Mexican dishes that you and all of your guests can eat.
While you can't go wrong with any of the dozens of different options you'll have to choose from here, the fish tacos are a personal favorite of ours. Gently fried fish strips with a mouthwatering blend of seasonings are accompanied in each taco by red cabbage, pico de gallo, and a delicious creamy chipotle sauce, with a side of Mexican rise to finish things off.
3. Katana Japanese Restaurant Sushi & Hibachi
You can't talk about the great seafood available in our area without talking about all of the great sushi around, and nobody does this Japanese classic better than Katana Japanese Restaurant. You'll taste the passion for fresh seafood that they have in every bite of the dish they create for you.
Some kimchi seafood soup makes a flavorful first course to begin your meal with, or you could go for a spicy tuna salad instead. Then you'll get to choose from an extensive list of all the sushi rolls you could dream up, with everything from mango shrimp and yellowtail jalapeno to lobster salad and avocado available.
4. Uncle Primo's
Out of all the specialty dishes served up by Uncle Primo's, the selection of fresh seafood deserves a special mention. Their crab cake platter gives you three delicious cakes made from real crab meat and served with a zesty aioli that helps their natural flavor stand out. You could go for the grilled tuna dish instead, and either option comes with a side of your choice.
You'll get the best of the best when you visit these local seafood spots. Don't accept anything less than the best in your dealership experience, either. Visit Parkway Ford Lincoln today, where we set the standard for great service!